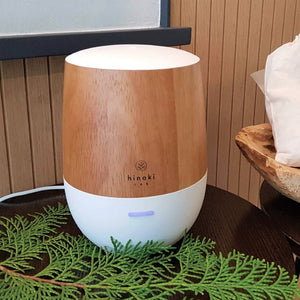 Spreads the natural scent in a well-balanced manner


A diffuser where you can enjoy Hinoki essential oil in your room. When you are taking a rest or want to spend a relaxing time in a calm space. Efficiently diffuses the fine particles of essential oils with air. You can enjoy your favourite scent by blending several kinds of essential oils.
hinoki LAB diffuser oils - coming soon!
Aroma level and operating time can be set

1. Entrance hall or narrow space
When you press the button once, it mists for 10 seconds, rests for 20 seconds and automatically turns off in 30 minutes.

2. Living room or large room
When the button is pressed twice, it mists for 20 seconds, rests for 30 seconds and automatically turns off in 30 minutes.

3. Large spaces
When the button is pressed 3 times, it mists for 1 minute, rests for 5 minutes and automatically turns off in 2 hours.
How to use

(1) Put the essential oil in the bottle attached to the upper part of the main body.
(2) Attach the essential oil bottle to the upper part.
(3) Set the upper part with the essential oil bottle attached to the lower part in the correct direction.
④ Press the power button to operate.
Name Hinokilab Electronic Diffuser
Power supply AC100-240V
Power consumption 5w
Body mass 600g
Size Diameter 126mm x Height 174mm
Aroma diffusing power Maximum fragrance space Approximately 12 tatami mats (approximately 20 m3)
The essential oil is atomized into fine particles and sprayed.
* May vary depending on the flow of air conditioning.
Precautions Please read the instruction manual carefully before use.